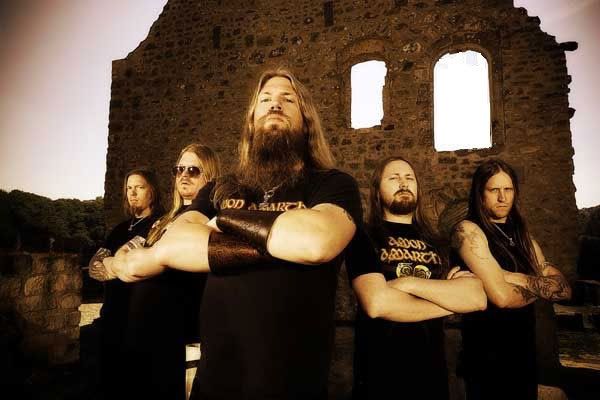 Lazarus AD opened up the show with quite a bang. I have long since outgrown my thrash days on CD...but it is really one of those genres that's great live even if you're totally bored with it on CD. The band tore it up and the lead guitarist had some great riffs and solos peppered in there that almost made me go back and start listening to thrash again. I only say almost because I'd honestly just rather see these guys again than listen to CDs. Second best band of the night.
Skeletonwitch is a band I'd have sworn I had seen before. But it wasn't on my list of bands seen live, so I may have been mistaken. Either way, the band was pretty good musically, but the vocals really killed it for me. The vocalist himself was good, as a frontman, but stood out in a rather adverse way by comparison to the band's music. The slight identity crisis of the music was also perhaps a bit distracting...thrash, death, black, all mixed up...I preferred the black sections myself.
Goatwhore was decent, I suppose. I'd never listened to the band prior, but they really suffered from an unenthused crowd. I was at the back of the pit for these guys, and honestly the pit was barely alive at the beginning, and by the end it was really just an empty space on the floor, just in case. the lack of crowd energy and enthusiasm drags down any band's live performance, and given the more or less generic style of music, the entire performance became quite lackluster alas.
Amon Amarth headlined and, interestingly, they were on my list of bands I'd seen live. Now, this was interesting because I didn't recall ever seeing them...not a shining endorsement by any means. I wonder why I don't remember now though. They were really great. The little details (drinking from animal horns, for instance) added enough to the thematic atmosphere and the music was good, if a bit taxing for such a long period (most metal is). When I first entered the venue, I was shoocked to see that the sound booth was in the middle of floor rather than in the back...this means a small crowd usually. Well, the crowd was indeed small, but completely enthusiastic. Normally, in the place I stand people are rather casual watchers and pretty passive. Just enjoying the music. For this show, the pit was all the way back to me (I was on the edge) and even behind me people were jumping and shouting all the lyrics, to say nothing of the huge press of people on the stage-side of the pit. Huge energy for this band, and it really made for a great experience and performance.